As the seventh largest petroleum producer in the world, the United Arab Emirates (UAE) economy has long been coupled with the ebbs and flows of the hydrocarbon industry. The plummeting global oil prices has thus affected the oil-rich nation, forcing the country to curb spending, oil companies to downsize, and prioritize and scale back projects.

The oil price crash, down at some point to $30 per barrel from its peak of $110, drove the nation into a series of austerity measures as the oil and gas industry tries to recover. Abu Dhabi has cut spending by 20% in 2015, and 17% in 2016, domestic fuel and electricity subsidies have been reduced, and the nation plans to implement a 5% value added tax (VAT) by 2018 with discussions of corporate tax underway. Numerous companies have been forced to reduce its workforce such as Abu Dhabi National Energy Co, Abu Dhabi National Oil Company (ADNOC), Etihad Rail, and Abu Dhabi Water and Electricity Authority, among many others.
UAE and the O&G Sector

Out of UAE's seven emirates – Abu Dhabi, Ajman, Al Fujairah, Dubai, Ras al Khaymah, Sharjah, and Umm al Qawayn – Abu Dhabi dominates oil production in the nation. Most of the oil reserves are located in Abu Dhabi, approximately 96% of UAE's total, while the remaining emirates account for just about 4% of the country's reserves.
The hydrocarbon industry is a pillar of the Emirati economy, representing a third of the country's GDP. With the oil and gas industry in dire straits, UAE has taken steps to diversify its economy to cushion and remain resilient in face of sustained lower oil prices. For example, Abu Dhabi has invested about $37 billion into mega projects, some of which have been begun before the oil slump in 2014, all to be completed by 2020.

Production
With the proved oil reserves ranked seventh globally, the UAE is a major oil producer and exporter. Holding approximately 6% of world's proved oil reserves, UAE has 97.8 billion barrels according to U.S. Energy Information Administration, Oil and Gas Journal. In January of 2017, UAE produced 3.06 million barrels per day (bpd) of oil.

Oil production for February of 2017 was 2.9 million bpd according to figures from S&P Global Platts OPEC survey. January and February average was 2.916 million bpd, about 42,000 bpd above its quota of 2.874 million bpd.

UAE produced 3.7 million bpd of petroleum and other liquids in 2016, where 2.9 million bpd was crude oil with the remaining 0.8 million bpd non-crude liquids (condensate, natural gas plant liquids, and refinery processing gain). Out of the OPEC countries, UAE is the fourth largest petroleum producing following Saudi Arabia, Iraq, and Iran.
Some of UAE crude oil streams includes Murban, a lightweight and sweet (low sulfur) crude oil, and Das, a blend of two existing streams, Umm Shaif and lower Zakum crude oil streams. The oil rich nation plans to increase crude oil production to 3.5 million bpd by 2020 mainly by using EOR techniques for some of its existing oil fields.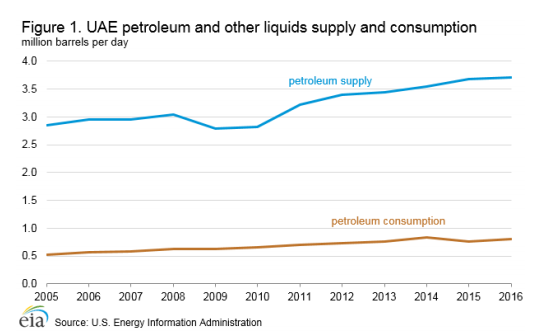 Imports, Exports, and Demand
According to the U.S. Energy Information Administration (EIA), UAE's crude oil exports in 2016 amounted to 2.5 million bpd, with the lion's share of exports going to Asia. Africa and other countries imports accounts for the rest of the import.
Between 2010 and 2015, UAE's hydrocarbon export revenues rose by 65% from $75 billion to $123 billion.
For 2016, UAE's consumption of petroleum was approximately 0.8 million bpd.
Despite being an exporter of crude oil, the UAE domestic market imports petroleum product imports namely residual fuel oil, motor gasoline, and diesel fuel.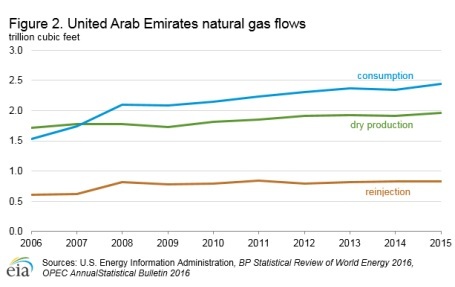 Expected Growth

By 2020, crude oil production is expected to amount 3.5 million bpd according, especially as Abu Dhabi plans to invest $40-$60 billion to reach its target
The country's future does not include major oil discoveries. Increase in production will be due mainly to enhanced oil recovery (EOR) techniques for the country's mature oil fields.
Production from Zakum's upper field is a potential avenue for production growth in the UAE. With a current production rate of 670,000 bpd, the field is undergoing expansion work to increase production to 750,000 bpd by 2018 and eventually 1 million bpd by 2024.
Zakum Development Company (ZADCO) - with its three major shareholders ADNOC (60%share), Exxonmobil (28% share), and Japan Oil Development Company (12% share) - manages the production of Upper Zakum field.
Lower Zakum field's production will also be increased from 345,000 bpd to 425,000 bpd, operated by the Abu Dhabi Marine Operating Company (ADMA - OPCO).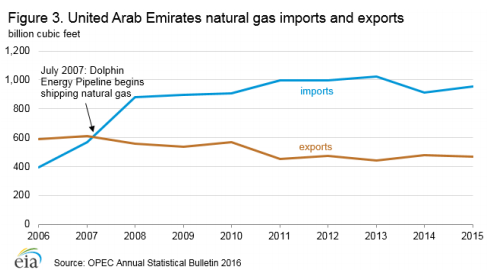 Industry Giants

Abu Dhabi National Oil Company (ADNOC), a state run company in the oil, natural gas, and petrochemical sector, operates over than two dozen subsidiaries and institution in Abu Dhabi. ADNOC's operation ranges from exploration, production, storage, refining and distribution, to the development of a wide array of petrochemical products.
Some of ADNOC's subsidiaries are Abu Dhabi Company for Onshore Oil Production (ADCO), the Abu Dhabi Marine Operating Company (ADMA-OPCO), ZADCO, Abu Dhabi National Tanker Company (ADNATOC), National Petroleum Corporation Co., among many others.
Global energy companies has, over the past four decades, formed partnerships with ADNOC, including Shell, Total, BP, JODCO, ExxonMobile, GSEnergy, BOREALIS, CNPC, OXY, and many others.
Each of emirates is responsible for regulating the oil industry, creating production sharing agreements (PSAs), and service contracts within its own borders. The Supreme Petroleum Council is the governing entity for all Abu Dhabi's petroleum related objectives and policies.
Given that Abu Dhabi dominates 96% of the oil in UAE, ADNOC is considered the major driving force in the UAE oil market and SPC the primary entity for establishing oil policy.
Dubai, as the second largest emirate with proven oil reserves, has the Dubai Supreme Council of Energy (DSCE) as the policy and development coordinator. Some of DSCE's representatives include Emirates National Oil Company (ENOC), the Dubai Petroleum Establishment (DPE), the Dubai Nuclear Energy Committee (DNEC), and the Dubai Electricity and Water Authority (DEWA).
ADCO's 40 year onshore concession, 60% owned by ADNOC, has been up for renewal since its expiry in 2014. Since then, a multitude of international companies have been awarded stakes in the nation's prized concession namely, Total (10% stake), BP (10%stake), Japan's Inpex (5% stake), South Korea's GS Energy (3% stake), China's CEFC 4% stake, and CNPC (8% stake).
In 2018, Adma which currently produces 655,000 bpd, is up for renewal. Current stakeholders of Adma include BP, Total, and Jodco alongside ADNOC.

Following the global drop in oil prices, spending in exploration and production fell by 25% in 2015, a $300 billion cut in investments according to IEA estimates. The price drop has impacted UAE as well, with ADNOC curbing spending and reviewing all of its projects. A massive number of projects have been pushed back, possibly crimping future supply as the global oil market, including UAE, is moving towards balancing their budget and cutting expenses.
In an effort to boost oil prices and get rid of supply glut, OPEC has curtailed its oil production by 1.2bpd from January 1st. For the months of March and April of 2017, UAE has complied with OPEC commitment to reduce oil production by more than 139,000 bpd.
As one of the top ten oil producers worldwide and an OPEC member, the oil glut and lower oil prices has been a hard blow to UAE. Despite agreeing to OPEC's demand of curbing production, the oil rich nation is committed to boosting its production capacity to 3.5 million bpd.
By Heba Eid