Cairo – Decypha: Since its inception in 1960, the Organization of the Petroleum Exporting Countries (OPEC) has co-ordinated and unified petroleum policies among its Member countries – all to secure fair and stable prices for petroleum producers. OPEC is a permanent intergovernmental organization of 13 members, namely, Algeria, Angola, Ecuador, Gabon, Islamic Republic of Iran, Iraq, Kuwait, Libya, Nigeria, Qatar, Saudi Arabia, the United Arab Emirates and Venezuela. Indonesia has suspended its membership in 2016 and Gabon recently rejoined the OPEC.
The OPEC publishes a yearly report, the Annual Statistics Bulletin (ASB), in which it covers statistical data and important information about OPEC oil production, exports, imports, and other oil related information. Here, we will take a closer look at the ASB key findings in the 2016 report and cover all the latest updates concerning OPEC.
Data compiled here is based on the latest official OPEC figures, which include includes Indonesia, a member until 2016, and excludes Gabon, which joined in 2016.
Oil reserves and active rigs
The world's proven crude oil reserves in 2015 were estimated at 1,492.7 billion barrels with OPEC accounting for 1,211.4 billion barrels, about 81.2%. Total oil reserves have increased about 0.1% from 2014 to 2015, which amounts to 2 billion barrels. The increase in oil reserves came from Angola, Venezuela, and IR Iran. On the other hand, Norway, the UK, and Columbia, all witnessed a decline in their oil reserves.
There are about 887 active rigs in OPEC member countries out of 3,618 active rigs worldwide; almost a quarter of all rigs belong to OPEC. From 2014 to 2015, there was a noticeable decline in a number of active rigs, with OPEC's rigs decreasing by 7% and total worldwide rigs declining by 55%.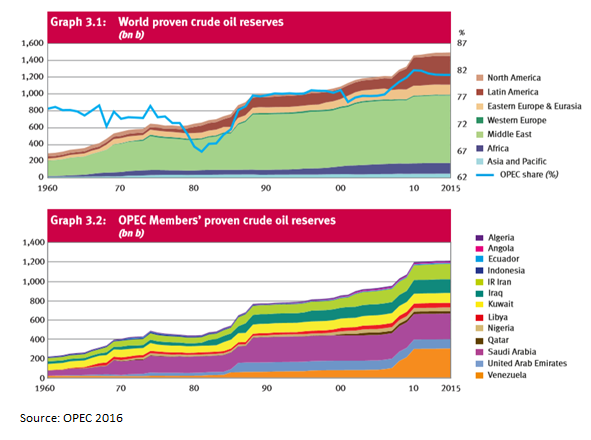 Production
OPEC's crude oil production increased by 3% in 2015 to 32.32 million barrel per day (bpd) compare to 31.39 million bpd, after a two-year slump in production. On the other hand, world crude increased by 1.75 million bpd, a 2.4 % increase compared to 2014. The top three oil producers were Saudi Arabia at 10.19 million bpd, followed by Russia at 10.11 million bpd, and the US at 9.43 million bpd.
Out of the 13 OPEC members, Saudi Arabia has been the largest oil producer since 1980. In 2015, Saudi Arabia produced 10.19 million bpd followed by Iraq at 3.50 million bpd and Iran 3,151.6. Given that Saudi Arabia's oil production accounts for almost a third of OPEC's production, it has over the years become the de facto leader of the organization.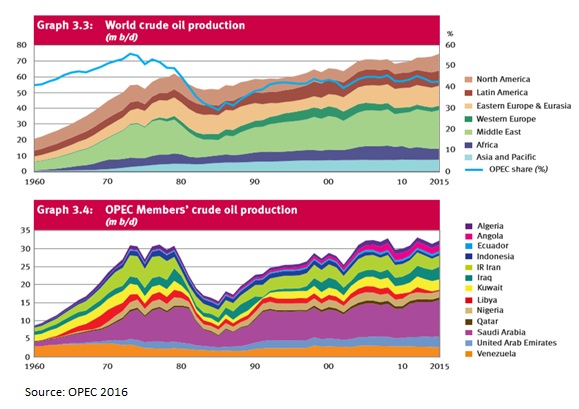 Export revenues
OPEC's total value of petroleum exports reached $518.2 billion. Saudi Arabia has the lion's share of OPEC's exports, with oil exports valued at $157.9 billion, or 30% of OPEC's exports. Iraq, UAE, and Kuwait value of exports reached $54.3 billion, $52.4 billion, and $48.72 billion, respectively.
From 2012, OPEC's value of petroleum exports has heavily declined. In 2012, OPEC's exports were valued at $1,098 billion and have decreased to $518.2 billion in 2015, almost 50%. In 2014, OPEC's exports were $956.1 billion, down from $1,089 billion in 2013.
From 2014 to 2015, OPEC petroleum export revenues fell by 45.8 percent from 2014, the lowest level seen since 2005. In 2015, OPEC recorded an account deficit of $99.6 billion in 2015, the first deficit since 1998, compared with a surplus of $238.1bn in 2014.
The total OPEC value of exports declined by 29.1 per cent year-on-year while total imports fell 8.7 year-on-year.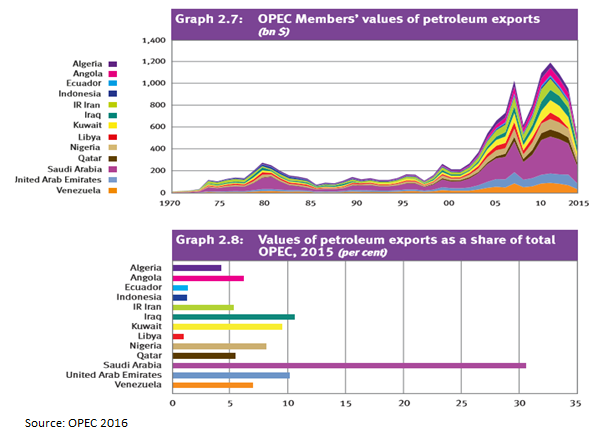 Export and destinations
About 61.5% of OPEC's crude oil was exported to the Asia Pacific region at a volume of 14.5 million bpd in 2015. Europe was the second largest importer of crude oil from OPEC, with imports valued at 4.2 million bpd in 2015. North America's imports from OPEC member countries in 2015 were 2.8 million bpd, a 10.6% decrease from 2014.
Expansions
Expansions in the Middle East came mainly from OPEC member countries and in Asia Pacific region most of the growth was in India and China. Gains in refinery throughput were predominantly from OPEC member countries in the Middle East, and from India and China. Overall, global refinery throughput surged by 2.4% to 80.5 million bpd in 2015 with the largest gains seen in the Middle East and Asia Pacific regions.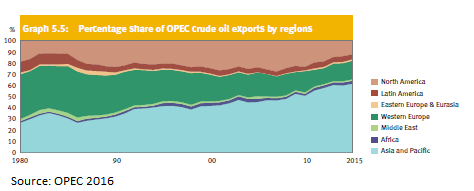 Oil prices and production
In an effort to revive oil prices, OPEC and 11 leading producers have agreed in December to restrain production by 1.8 million barrels a day for six months to bring global oversupply of crude back in line with demand. This agreement, the first for OPEC since 2001, was to last six months, with the possibility of a six-month extension.
Saudi Arabia, the de facto leader of OPEC, and Kuwait indicated their intent to extend the production curbs for another six months. Oil producers have agreed another six months of reduced production are necessary, but the agreement has yet to be finalized, according to the latest statement by Saudi Energy Minister Khalid al-Falih.
Production cuts may be less steep if OPEC and non-OPEC producers agree on extending their six-month agreement as oil demand is expected to be stronger for seasonal reasons in the second half of 2017.
Oil prices have reached a low of $30 a barrel last year and have rebounded up to $55 a barrel. On May 25th, OPEC members will meet to discuss extending supply curbs, totaling 1.8 million bpd, with non-OPEC countries. About two-thirds of the supply cuts will be from OPEC.
To date, OPEC members have complied with the agreement, with most estimates pegging compliance at close to a 100%.
Countries exempt from the OPEC deal
As OPEC and non-OPEC producers reduced their production, there's one country that has been exempt from the deal and in fact boosted its production– Iran. Following the lift of international sanctions last year, the country argued it shouldn't cut production when its trying regain market share and court new buyers. Since the deal, Iran has sold more than 13 million barrels of oil that it had long held on tankers at sea. Iran has been allowed to increase its crude output to about 4 million barrels – the production level before sanctions were imposed on the country. In 2016, Iran's production has surged by 35%, where it pumped about 3.8 million bpd.
Libya and Nigeria are another two countries exempt from production cuts as they both continue to suffer production losses from militant attacks and political instability. It is yet unclear if they will sign off the next agreement in June.
Moving Forward
While oil prices have bounced back following the agreement to hover over the $55 a barrel, there's another concern for OPEC – the resurgent US shale industry. US shale producers, not part of the pact, have boosted their production, motivated by the higher oil prices. U.S Shale production is expected to rise and increase 335,000 bpd for 2017, according to OPEC.
Curbing oil production has succeeded in boosting oil prices, but it's not clear whether another extension will do the oil producers a whole lot of good. On the one hand, if the deal isn't extended, oil market may continue to be oversupplied, further contributing to oil price fall. Yet, if they decided to cut back on production for another six months, US shale producers will boost their crude output leading us back to square one – with even lower oil prices.
By Heba Eid