Dubai – Decypha: The United Arab Emirate's (UAE) real estate market, hailed as one of the strongest in the region, has been on the rise for decades and plays a pivotal role in the country's economy. About 10.3% of the country's GDP comes from the real estate sector, according to UAE's Ministry of economy's Annual Economic Report, up from a 3% range in the mid-90s. The boom in real estate sector is due largely to the government's efforts and investment to attract foreign investors and to register the nation as a trade hub.
The exponential growth of the real estate market had two major hiccups: the 2008-2009 global financial crisis and the prolonged crude oil price slump. UAE has recovered nicely from the former but the effects of the latter are still being mitigated. The glut in oil prices has negatively impacted government spending and caused job losses, both of which somewhat stumped real estate market growth. In 2016, Dubai capital values were the lowest in five years with an 8.8% drop and Abu Dhabi's capital values fell by 6% on average.
The year 2016 has been viewed as the year where UAE adjusted to the "new normal of lower oil revenues," according to JLL's UAE Real Estate Market Overview for 2016, with many real estate companies on the road to recovery. By taking a closer look at the companies' performances in 2015 and 2016, the results reflect uncertainty in the market: some companies faring much better than others, while others have experienced a deep drop in profits.
Profitable Companies in 2016
As one of the leading players in UAE's real estate market, Emaar Properties' profits increased by 26.7 % in 2016 compared to the previous year, from AED 4.59 billion to AED 5.82 billion in 2016. The company was ranked the 17th out of 50 of Forbes Middle East's top companies in the Middle East.
Another profitable company, Sharjah Group witnessed a 28% boost in net profits in 2016 compared to 2015, recording profits AED 15.3 million and AED 19.66 million for 2015 and 2016, respectively.
The year 2016 was a year of upward growth and recovery for Al Ramz Corporation Investment and Development Company. In 2015, the company had reported losses of AED 132 thousand, while in 2016 the company rebounded to record a net profit stood at AED 58.6 million.
Net profits for Emaar Malls slightly increased by 13.1% from 2015 to 2016. The company's net profits were AED 1.65 billion and AED 1.87 billion for 2015 and 2016, respectively.
The performance of Al Khaleej Investment company improved by 10.76% in 2016 compared to the previous year. The estimated net profits for the company were recorded at AED 30.4 million in 2016 and AED 27.4 million in 2015.
Similarly, RAK Properties's performance improved slightly in 2016. The company's net profits increased by 10% in 2016, recording a total of AED 160 million in 2015 versus AED 174.8 million in 2015.
Another company boasting of a year of growth is Aldar Properties. In 2016, the company recorded a profit of AED 2.75 billion versus AED 2.56 billion in 2015, showing a 7.52% increase.
In 2016, Manazel Real Estate reported a net profit of AED 206 million compared to AED 195 million in 2015, a 5.65% increase.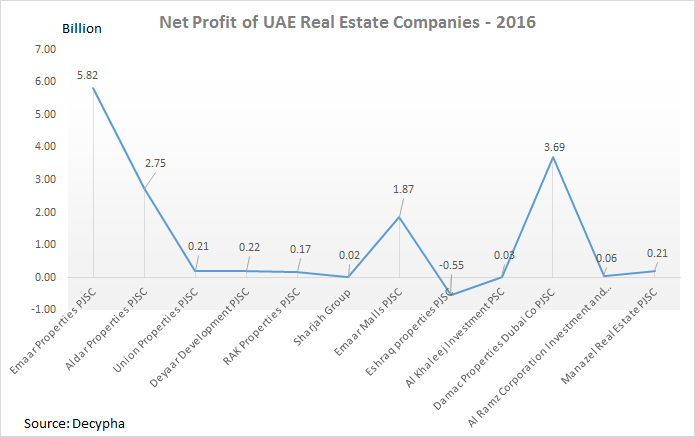 Plunging Net Profits
Union Properties net profits stood at AED 434.6 million and AED 211.4 million in 2015 and 2016, respectively, amounting to 51.35 % drop in profits.
Deyaar Development experienced a 26 % drop in net profits in 2016 compared to 2015, with the company's net profits estimated at AED 291 million in 2015 and AED 216 million in 2016.
Damac Properties Dubai Company's 2016 results weren't favorable. The company's net profits plunged by 18% in 2016 compared to the previous year. In 2016, the company's net profit were AED 3.694 billion and in 2015, net profits were recorded at AED 4.514 billion.
Eshraq Properties reported significant losses in 2016 compared to its profitable year of 2015. The company's net losses were estimated at AED 545 million in 2016 compared to the recorded net profit of AED 9.98 million in 2015.
Reading the Figures
Of the top listed real estate companies in the UAE, only one has accrued losses in 2016 – Eshraq Properties. The majority of the companies significantly grew in 2016 compared to their performance in 2015, most notably is Al Ramz Corporation Investment and Development, which has bounced back from a loss in 2015 to profits in the hundreds of million. On a similar note Emaar Properties and Sharjah Group performance improved by more than 25%. On the other hand, there are a few companies, whose profits have declined in 2016, namely, Union Properties, Deyaar Development, and Damac Properties Dubai.
The medium-term outlook for the real estate market is a positive one, according to JLL's report. With Dubai preparing for the Expo 2020, many of the real estate companies will see continued growth. Emaar Properties development of more than 15,000 homes near the expo site is one example potential growth.
"As the regional economic situation improves, an increase in GCC tourism is expected to contribute to the recovery of the hospitality and retail sectors, reflecting positively on the UAE real estate market as a whole," said Craig Plumb, Head of Research at JLL MENA.
Editorial note: All data mentioned above has been collected and processed by Decypha's financial analysts from official statements. Figures here only represent listed companies, and therefore may present a limited picture of the industry.
By Heba Eid